This post is also available in: Français (French)Deutsch (German)
Active Members

Brandalism (U.K.)
WHAT: Brandalism is an international collective of artists that challenge corporate power in public space around the world. Intervening into ad spaces that usually celebrate consumption, Brandalism use 'subvertising' to divert messages towards ones of anti-consumption. Brandalism uses outdoor ad spaces as a lens through which we can view multiple social & environmental justice issues that consumerism exacerbates.
WHY:  Corporate advertising influences every aspect of our modern lives: from how we feel about ourselves; our bodies; our understandings of gender, race and class; through to our perceptions of others and the world we live in. Advertising doesn't simply sell us products – it shapes our expectations of how meaning should be produced in life.
Website: brandalism.ch | Twitter : @BrandalismUK

Proyecto Squatters  (Buenos Aires – Argentina)
WHAT: We are an evolving team of nice, fun and committed people, who get organized to realize actions in the streets, workshops, exhibits that, altogether, develop a creative answer in front of the symbolic violence of advertising.
WHY: We do this because we are looking forward to collectively building a self-development path. With creativity, intelligence and empathy, we want to build a world with more justice, and more respect for the nature and the life.
Website: proyectosquatters.blogspot.com.ar/ | Twitter: @ElSquatt | Facebook: ElSquatt

Résistance à l'Agression Publicitaire (R.A.P. – France)

WHAT: Résistance à l'Agression Publicitaire is a national NGO. We develop non-violent legal strategies of activism, and facilitate gathering of the various french anti-advertising movements. With 16 local groups in France, R.A.P. promotes critical analysis and awareness-raising campaigns, mobilisations through direct actions on the field and advocacy activities on decision-makers.
WHY: Because advertising has negative effects on the environment (waste of resources, pollution of the environment, noise, etc.) and society (development of over-consumption, inequalities, obesity, violence, etc.).
Website: antipub.org | Twitter: @RAP_asso | Facebook: Résistance à l'Agression Publicitaire
Diaspora: Rapasso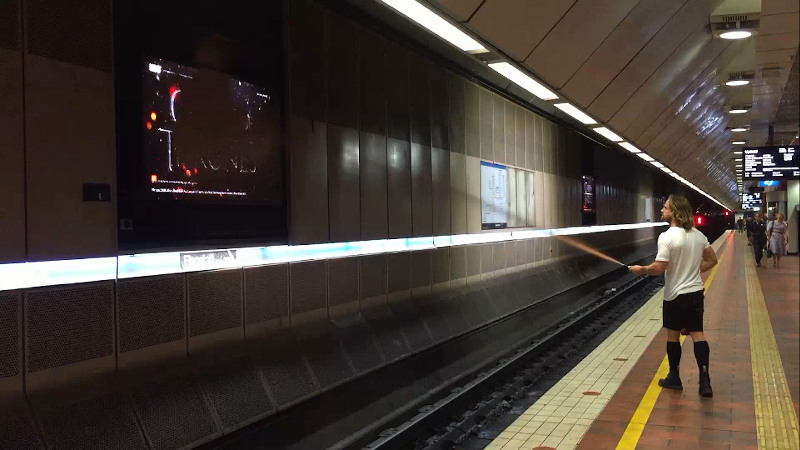 Democratic Media Please (Melbourne – Australia)
WHAT: Civil disobedience/direct action — cover ads with paint openly, plead not guilty and run legal defences to charges laid.
WHY : For democracy to work, the for-profit media-advertising system needs to be abolished and replaced with a democratic media system – the for-profit media-advertising system will only be abolished when we refuse to live with it.
Website: democraticmediaplease.net

Adblock Bristol (England)

WHAT: A city-based campaign using community arts, the planning system, flim nights, press and public engagement to challenge corporate outdoor advertisng in the city.
WHY: Adblock Bristol is working towards a city that celebrates our creativity and independence, where communities have a say in what they see in the city's streets and other public spaces. We are opposed to billboards and other corporate outdoor advertising, preferring a visual environment which reflects the unique identity of our city, the values of local communities and the local economy.
Website: www.adfreecities.org.uk/bristol/  | Twitter: @AdblockBristol
Le Collectif des Déboulonneurs (France)
WHAT: The "collectif des Déboulonneurs *" The Debunkers' collective, fights advertising through civil disobedience. Our actions are direct, non violent; we write messages such as "Advertising pollutes our dreams" "Who pays for ads?" "Visual attack" on billboards in the public space. We declare ourselves responsible for these actions, for which we risk being sued. On March 25rd 2013, a Paris court discharged our activists, pleading "necessity" and "freedom of expression". The goals of this collective and its fellow organisations are: fewer advertising mediums, and banning advertising displays(screens), in order to establish a commercial-free public space. * "Déboulonner" means both dismantling and debunking
WHY: In the public space, advertising imposes itself on us as passengers or passers-by. It is everywhere (displays, tarps, billboards), and it permeates us even if we are unaware of it. We must urgently act to win battles to limit advertising and halt its social and ecological impact.
Website: deboulonneurs.org

Dies Irae (Berlin – Germany)
WHAT: We see adbusting and ad takeovers as self defence in orde to cope with the visual pollution of commercial advertisement. We also empower people with trainings to do the same.
WHY: We take over advertisement spots with own posters to provide political stimuli in the public sphere.
Facebook: bit.ly/Dies-Irae | Instagram: @nervtjeden | Twitter: @nervtjeden | Youtube: youtube.com/channel/UCWPvUdtibh8WjwuewA9p0vw

Special Patrol Group (London – England)
WHAT: Special Patrol Group has been many different people at different times. It's horizontally and anonymously organised. It's more of a tactic than an actual group, anyone can take direct action against advertising anonymously and claim it in the name of SPG.
WHY: We have an anarchist, anti-capitalist outlook. When politics and art collide on the streets we can challenge the corporate capture of our public spaces and turn the language of consumerism against itself. More broadly the intention is to activate and politicise people, to use public space, and encourage social good. We'd really like people to take their own autonomous action, for people to make and remake their urban environments and claim their right to the city.
Twitter: @specialpatrols
No-Ad Day (International)
WHAT: Takeover, Noads. Participants in "NO AD Day" are asked to remove as much outdoor advertising as they can the day before Buy Nothing Day, in an effort to eliminate the commercial media messages which dominate our public spaces. "NO AD Day" is about controlling the over saturation of our minds and environment by commercial media, so that we might address our consumptive needs in a more meaningful and productive way.
Website: noadday.org | Twitter: @noadday | Instagram: @noadday | Facebook: NOAD

Vermibus (Berlin – Germany)  
WHAT: Workshop, artivism, takeover, civil disobedience. This artist bases his practice on targeting the depersonalizing effects of advertising, which he negates by exaggerating them. He removes official poster ads from the street and alters them in his studio by applying chemical solvents to the image. He dissolves the face and flesh of the models appearing in the posters, smudges and erases brand logos, and then returns the ads into their original place in public spaces.
WHY: The advertisings are affecting us in every single level; in a personal, sociological, political and environmental. It also affects our mental health, the chemical system of our body, customs, decision-making, freedom of the press, freedom of speech… When I say that advertising is affecting every single level of our life I really mean it. We are facing new dangers. On one hand the new technologies at the service of the advertising, like Big Data, that is using every single information that we are publishing about us, checking every single movement that we make, in the internet and in the public space, with satellites and on the other hand the Neuromarketing, that is studying how our brain works in order to make the advertisings more effective in a scientific way.
Website: vermibus.com | Instagram: @vermibus | Twitter: @Vermibus | Facebook: Vermibus

Public Ad Campaign (New York City – US)
WHAT: PublicAdCampaign is the umbrella project under which Jordan Seiler writes, makes artwork, organizes, lectures, programs, and generally advocates for a more democratic use of our shared public spaces by questioning outdoor advertising and creating new avenues for public communication.
WHY: Through the repetition of narratives conducive to commercial interests our shared media spaces, television, print, the internet, and even public space itself, are shaping our collective social narratives and influencing how we treat each other and the environment.
Website: publicadcampaign.com

Climáximo (Portugal)
WHAT: Climaximo is a grassroots horizontal anticapitalist and direct action movement from Lisbon, Portugal. Part of the global climate justice movement, Climáximo has been involved in concrete struggles in Portugal and Europe, while participating in international platforms such as the Peoples' Climate Commitment, Gastivists, Stay Ground, Climate Justice Action, By2020 We Rise Up, 2020 Rebellión por el Clima, Global Climate Jobs and International Ecosocialist Encounters.
Website: https://www.climaximo.pt | Facebook: climaximopt | Twitter: ClimaximoPT | Instagram: @climaximopt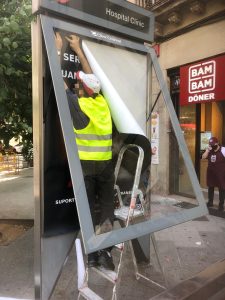 QR269 (Catalonia)
WHAT: QR269 is a collective focused on using public spaces dedicated to the promotion of consumerism to instead disseminate information about the horrors hidden behind the industrial production of meat, dairy, and eggs, as well as its devastating effects on the environment.
WHY: This dissemination is carried out under the criteria of effective activism. Our goal is to help bring about social transformation by promoting reflection on the need to understand our consumption choices under a more ethical and sustainable framework.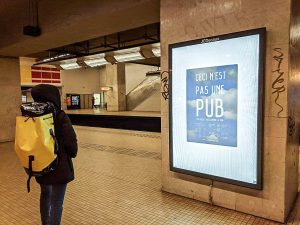 Bruxelles Sans Pub (Belgium)
WHAT: Bruxelles Sans Pub (Brussels Ad Free) is a call to act against advertising in a permanent and decentralized way. Brussels Sans Pub proposes to relay the anti-ad actions carried out in  Brussels (and elsewhere) and propose creative ideas for actions against ads. Every year the group co-organises the ZapGames (www.zapgames.net)
WHY: Advertising invades our streets and our minds, because it harms the environment and our health, because it is an interface of the capitalist system and the consumer society.
Facebook: @bruxellessanspub |Instagram: @bruxellessanspub

Liège Sans Pub (Belgium)
WHAT: Born from a long history of anti-advertising and from the citizen's refusal to renew the contract between Liège's authorities and JCDecaux, Liège Sans Pub (Ads Free Liège) seeks today to relay and carry out anti-advertising actions in the city and in Belgium (alongside Namur sans pub and Bruxelles sans pub in particular). Convinced that only a diversity of tactics can strike a balance of power with the old world, of which advertising in our streets is an emblem, we carry out both legal and direct actions. 
WHY: Because advertising inflicts impon us its violent messages at the corner of our streets, in our parks, at our bus stops, i.e wherever we live; because public space, in which adverts are plugged in, belongs to us; because its presence is a matter of economic and political choices: for all these reasons, it is legitimate to question and refuse advertising's presence. 

Adfree Cities (U.K.)
WHAT: Adfree Cities is a network of local groups across the UK which include include Bristol, Norwich, Leeds, Lambeth (South London), Hackney (East London), Cardiff and Exeter. We lobby for policy change at national and local levels, showcase arts alternatives to corporate billboards, organise locally to stop new advertising sites and produce resources to raise awareness about the impacts of commercial advertising.
WHY: We are concerned about the impacts of corporate advertising on our health, wellbeing, environment, climate, communities and the local economy.
Website: https://adfreecities.org.uk | Twitter: @adfreecities |Instagram: @adfreecities |Facebook

Badvertising
WHAT: 'Badvertising' is a campaign to stop adverts fuelling the climate emergency. This includes ads for cars, airline flights and fossil fuels. We provide research evidence, campaign and coordination support at the local and interntional level and design counter-advertising material to raise awareness about the problem. We advocate for local authorities, public bodies, and sports institutions to drop high-carbon adverts and sponsors and campaign for Governments to legislate against high-carbon adverts and for meaningul reforms of advertising regulatory bodies.
WHY: We ended tobacco advertising when we understood the harm done by smoking. Now we know the damage done by fossil fuel products and activities, it's time to stop promoting them.

Creatives for Climate (the Netherlands)
WHAT: A non-profit global network of industry professionals radically collaborating to drive climate action. From communicators to scientists to sustainability consultants – our powerful collective of change-makers are passionate about the planet, hungry for solutions, and committed to using their creativity for good.  Through community and capacity building, we help industry professionals tackle greenwashing and find opportunities to drive change. 
Our collaboration hub grants access to the network directly – alongside opportunities to up-skill, inspiring events to gain new skills, and opportunities to partner with causes, activists and other solution holders. We have centralized our work in an online collaboration platform you can see directly here – www.creativesforclimate.community 
WHY: The climate crisis is a communications challenge and radical re-skilling is needed for communicators to drive change! Our goal is to re-skill one million communications professionals to tackle greenwashing in their work, and use their creativity for climate action.
Website: https://www.creativesforclimate.co Instagram: @creatives_for_climate | Facebook 
---
Dormant members
Tramclean (Naarm/Melbourne – Australia)
WHAT: Tram Clean is a Naarm (Melbourne) based anti-capitalist theatrical protest against for-profit advertising on public transport and in public space.We are reclaiming power and agency in the face of the corporate dominance of public space. The invasion of for-profit advertising on public transport silences the voices and interests of everyday people, for it is the voice of the non-human corporations that dominates the public sphere.The protest is an assertion that the voices of everyday people are valuable and should be heard.
WHY: The for-profit entities that project their images and voices into public space are the same corporations responsible for the displacement of Aboriginal people from their lands, environmental destruction, the maintenance of white supremacy and cis-heteropatriarchy, wage inequality and the corruption of democracy. It is these monolithic companies that are the driving force behind capitalism, an economic system which is based on the exploitation of the many for the benefit of the few. As citizens we have not consented to having our public space invaded by the advertising of corporate entities interested only in generating profit. Public space, if marked with anything, should be available to the people for community enrichment, communication and the display of arts and culture.
Website: https://tramclean.wordpress.com/
Consume Hasta Morir (Madrid – Spain)
WHAT: ConsumeHastaMorir looks at the society in which we live, and by using one of its own tools, publicity, allow us to see to what extent one can die "consuming". We do workshops on communication, we spread texts, we publish books and, especially, we share subverts.
WHY: This project was started by the Ecologists in Action association, a Spanish confederation created by the coming together of more than 300 environmental groups. ConsumeHastaMorir uses subvertising to spread information about these social problems and to promote a more critical behaviour towards consumerism and the mass media.
consumehastamorir.org Twitter: @ConsumeHastaMor

CLIP (Lausanne – Switzerland)
WHAT: "Collectif de libération de l'invasion publicité" (Freedom from ad invasion collective), founded in Lausanne, Switzerland, in 2015, following a talk by Mirko Locatelli, co-founder of the Réseau d'objection de croissance (economic growth objection network) and of FLIP, and Mathilde Jordan, member of FLIP.
WHY: Because, as anyone can experience, in Lausanne and elsewhere, advertising imposes itself at all times. It pollutes our minds by blinding us. It hides the real conditions in which products are made and the social and environmental consequences of our hyperconsumption. Its objective is to make us buy by any means and in any place, even by putting us in danger. By its manipulation techniques, intended or not, it short-circuits our ability to reason, stimulates our base instincts, dries our imagination and would like us to believe that happiness necessarily derives from our purchasing power.
FLIP (Fribourg – Switzerland)

WHAT: The FLIP , Front de Libération de l'Invasion Publicitaire (Liberation Front of the advertising invasion), is a collective claiming the right of no receiving, right which is today denied. We aim to problematize advertising which is imposed as a reality never to be put in question although it is specially pernicious, by its methods and consequences. By denouncing avertising processes, we try to raise people's awareness about nuisance resulting from these for environment and society. Our actions aim specially display in the city, which is the place where the residents get real room of manoeuvre to propose different uses of this public space, not serving economy and consumer society but serving « the living together ».
WHY: Every day, we are exposed to several hundreds of commercial messages which compete in agressivity to manage to capture our attention. Blinding the population about the real conditions of production and consumption of the products it highlights, advertising reduces our critical mind and reduces the individuals to consumers. Advertising is so a main wheel of our consuming society and contributes effectively to the waste of resources, the deterioration of the ecosystems, exploitation of humans and pollution of the imagination.
Robert Johnson (RJ) & Commission AntiPub Nuit Debout (CAP)

(

Paris – France)
WHAT: The Commission Antipub (Anti-Ad Commission) and the Robert Johnson group both regularly organise workshops to work on bus-stop format posters, creating drawings and takingover existing ads. Artivism is a good way to fight the advertising system, but no need to be an artist to join. It only needs to be attracted by concrete activism. New skills and techniques are always useful, but people join us for the pleasure to fight together. We act sporadically in the subway and in the streets, e.g. during demonstrations… Robert Johnson group (who knows if it really exists and if it's its real name.. ?!) was born right after the large mobilizations against ads in France in 2003-2004. The Anti-Ad Commission spontaneously arised from the Nuit Debout (Night Standing) movement in the spring 2016.
WHY:Because the advertising System fuels our insane society, we want to raise awareness to make it ready to change for good. And also, because of the great pleasure it provides to reappropriate and rebuild the city landscape.
FIND US:
RJ: "you can try… we are somewhere, in Paris!"
CAP: Facebook: Commission Anti Pub Nuit Debout / Twitter: @AntiPubDebout