Feature image: Lindsay Grime.
As the doors opened at the Brussels Auto Salon, a major event in the calendar of car enthusiasts, the Subvertisers International took action alongside Brandalism and XR against the greenwash of car companies' adverts. 
Ten different artworks criticising Toyota and BMW were installed by activists on over 400 billboards and bus stops in Belgium and cities across Europe, including: London, Berlin, Stuttgart, Paris, Nantes, Brussels, Ghent, Bristol, Derby, Glasgow, Norwich, Brighton, Exeter and Reading.
Toyota and BMW are two of the world's biggest car companies and some of the worst culprits for carbon emissions and anti-climate lobbying. 
Activists used the action to demand stronger policy from governments to regulate the advertisement of environmentally harmful products and prevent misleading green claims from big polluters. A few weeks after the action, it was revealed that the EU is proposing to do exactly this. 
The Europe-wide action fell against a backdrop of growing international momentum behind the idea of introducing tobacco-style advertising bans on climate-wrecking products, such as fossil fuels and SUVs.
This artwork by Fokawolf targeted Toyota using the fact that in 2022, Toyota was ranked the 10th worst company in the world for anti-climate lobbying, the worst of all car makers. Only fossil companies like Exxon Mobil ranked worse. (BMW came 16th.)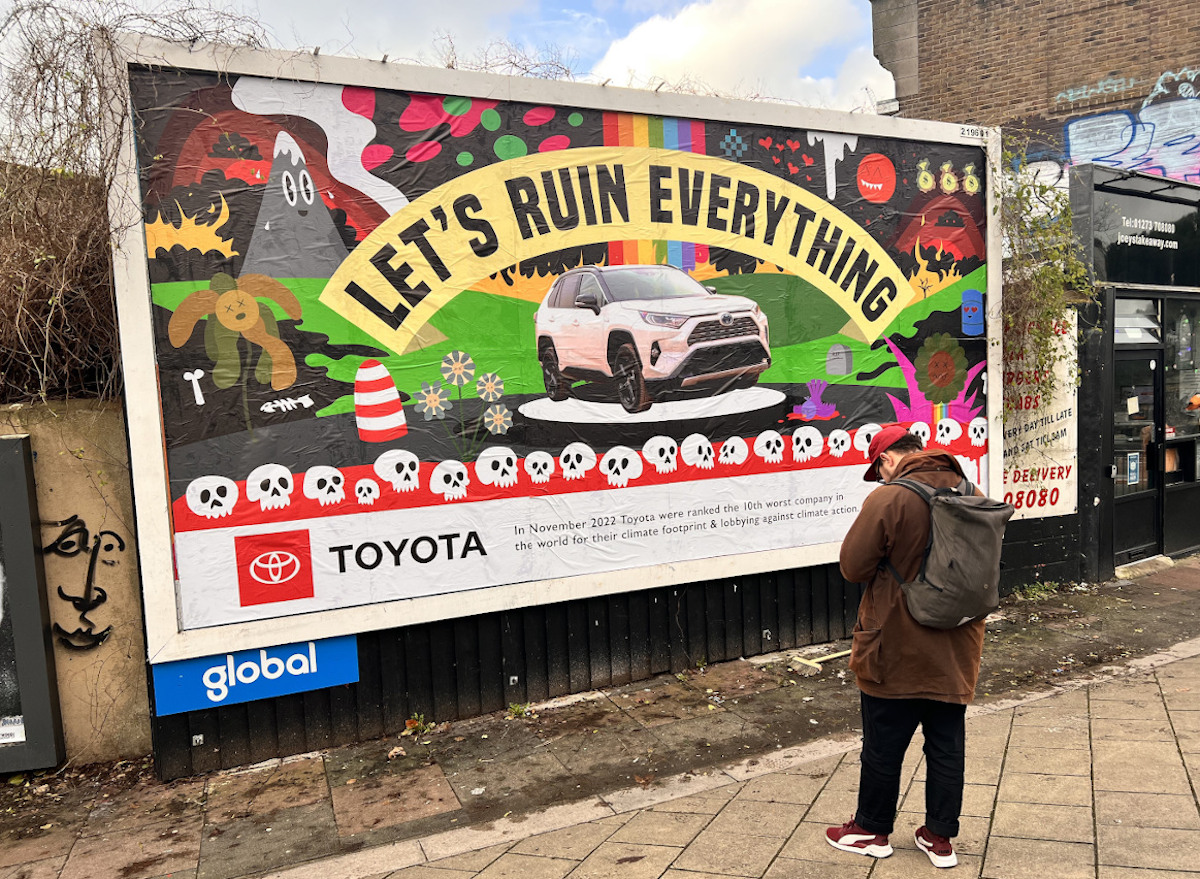 A billboard design by Matt Bonner calls out Toyota for continuing to produce fossil fuel cars. Despite the company's claims to be leaders in sustainable travel, they have lagged far behind other car companies in switching to electric vehicles, and their own production schedule will see them produce millions more cars than allowed under the Paris Climate Agreement.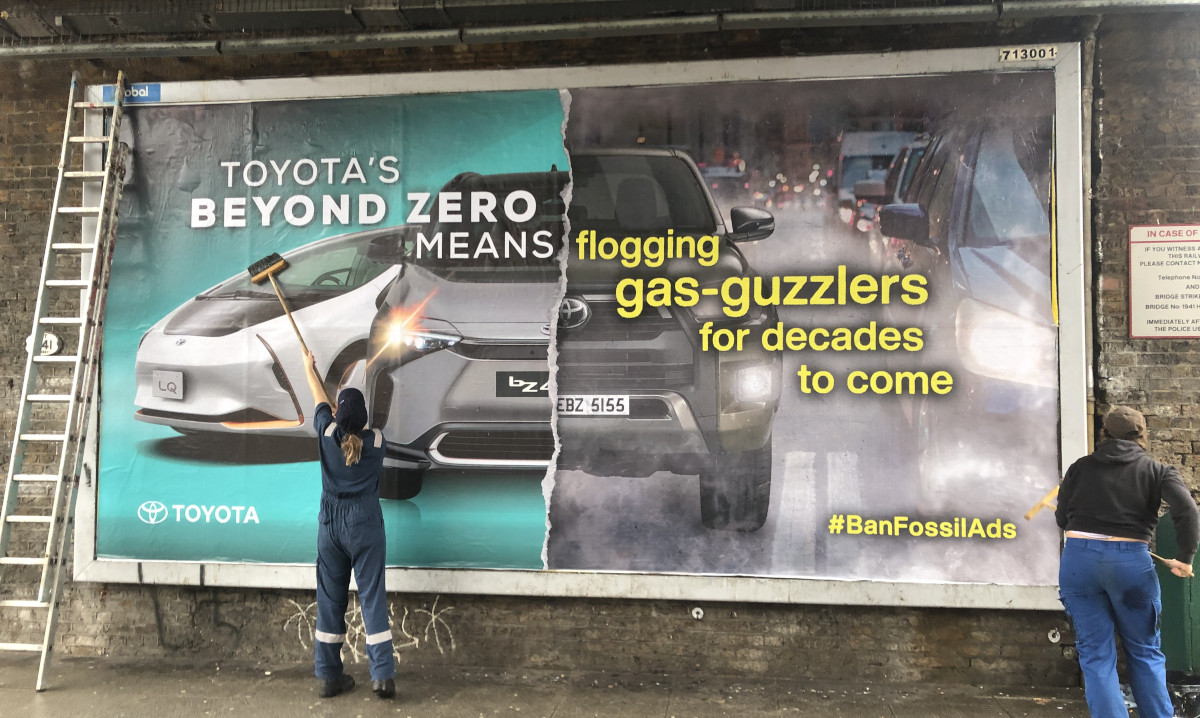 A bus stop design by Street Market Subvertiser used the face of Toyota CEO, Akio Toyoda, to highlight how Toyoda has frequently and publicly criticised electric vehicles and lobbied against lower emissions standards around the world, including in Japan and the USA.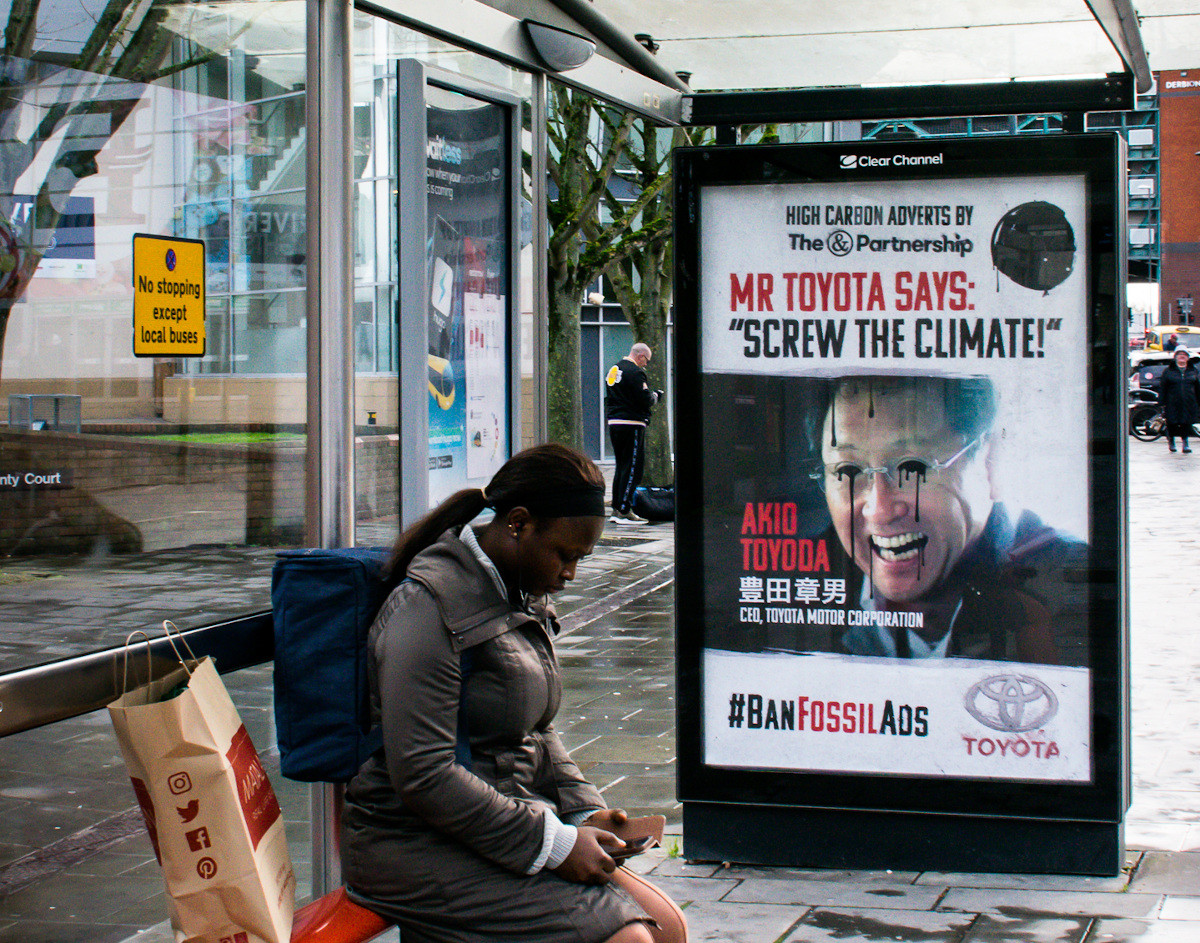 Despite advertising suggesting a shift towards less polluting electric vehicles, BMW continues to push gas-guzzling SUVs. Their sales are driven by the X range of SUVs and they have every intention on growing their luxury SUV market.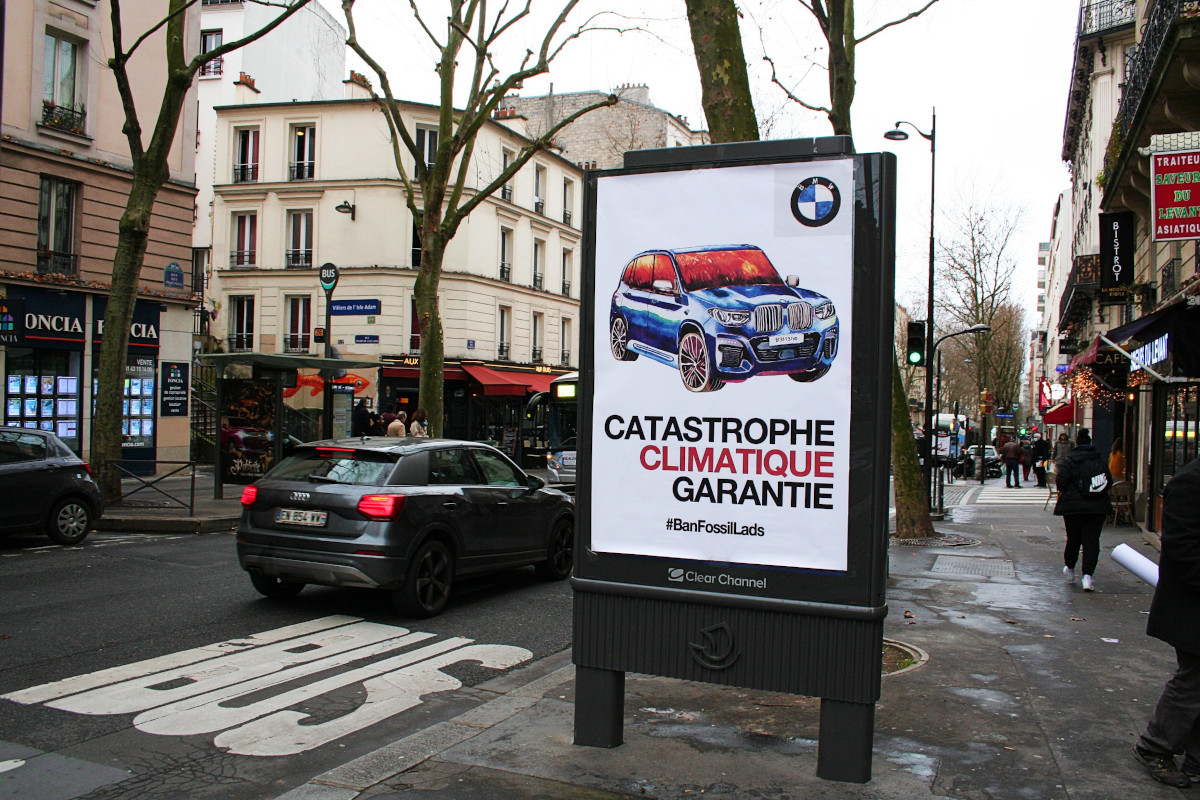 BMW has also been accused of using unrealistic emissions figures for their plug-in hybrid range. Real world emissions have been found to be up to 12 times higher than stated by the company.