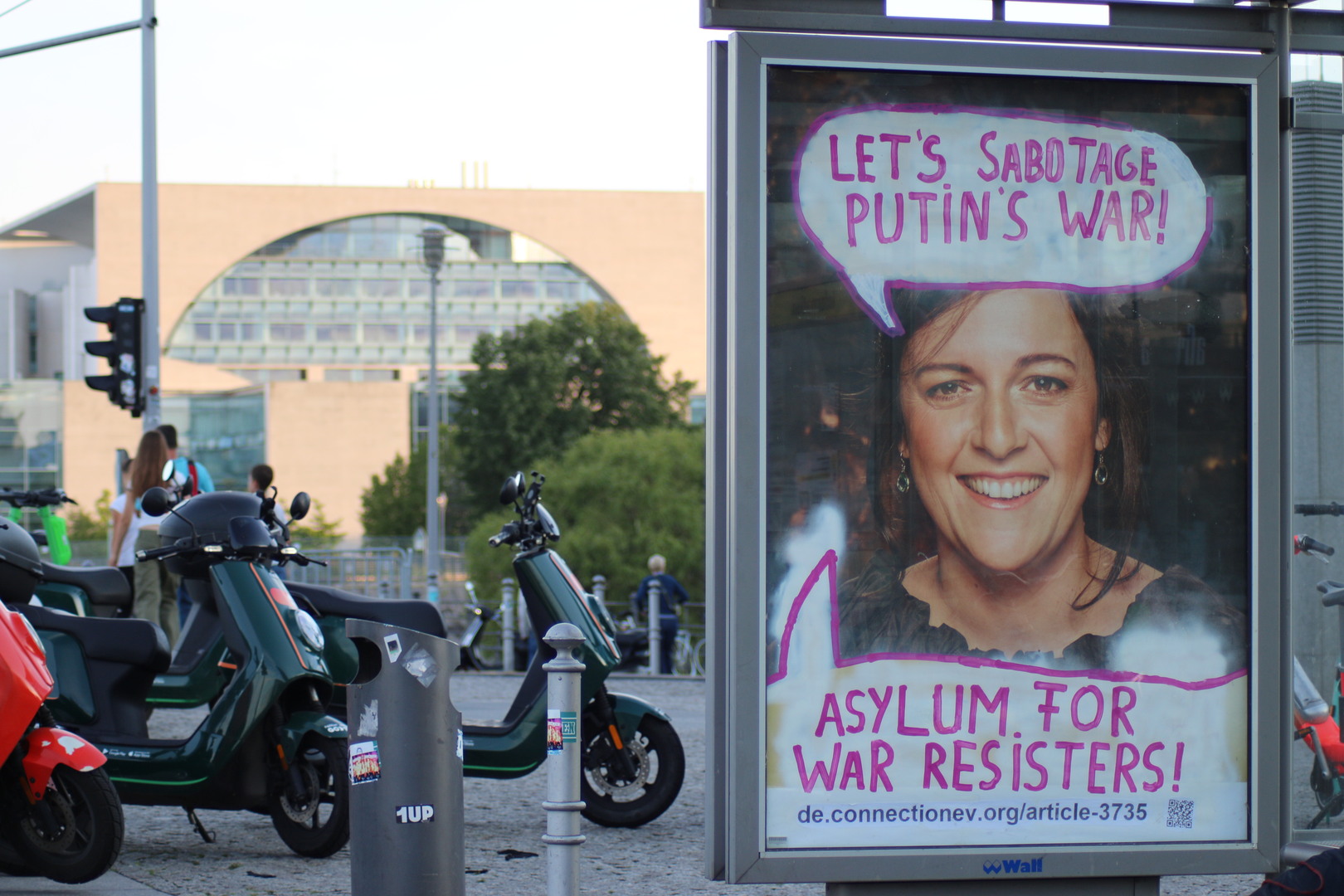 "Something's not quite right with that advertising poster…" That's certainly what passers by strolling through the center of Berlin today were thinking. The communication guerrilla group "Asylum for conscientious objectors now!" (AfCOn!) hijacked almost 20 advertising posters between Treptower Park, Alexanderplatz and Tiergarten. The group "AfCOn!" altered the current advertising posters for ice cream, magazines, an amusement park, Berlin's public transport company, shower gel or clothing with scissors, paper or paint. The new and improved posters now promote better asylum opportunities for conscientious objectors from Russia, Ukraine and Belarus. "Most of the advertising motifs can be easily appropriated with another demand such as the right to asylum for conscientious objectors!" says Roderich Supersonnenwetter, spokesperson for the action group "Asylum for conscientious objectors now!" (AfCOn!).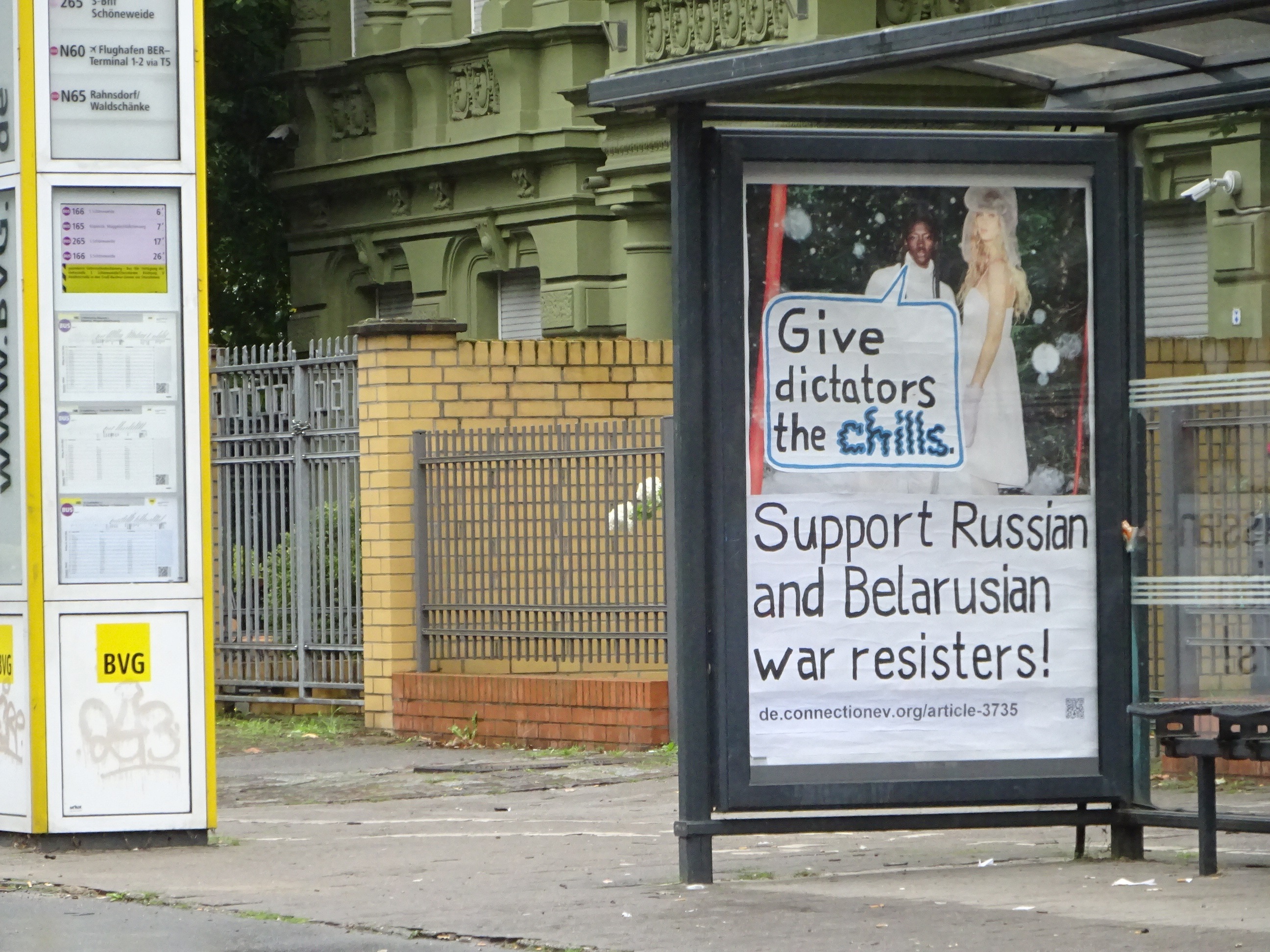 Catching dictators off guard
Right in front of the Belarusian embassy, a reconstructed advertising poster for the winter collection of a fast fashion company depicting two people standing in the snow boldly states "Give dictators the chills." How this can be done is written in large letters underneath this image: "Support Russian and Belarusian war resisters!"
Sabotaging Putin's war
Instead of advertising a magazine, a celebrity on a Poster at the Brandenburg Gate asks: "How can we Sabotage Putin's war?". Her answer: "With asylum for conscientious objectors!"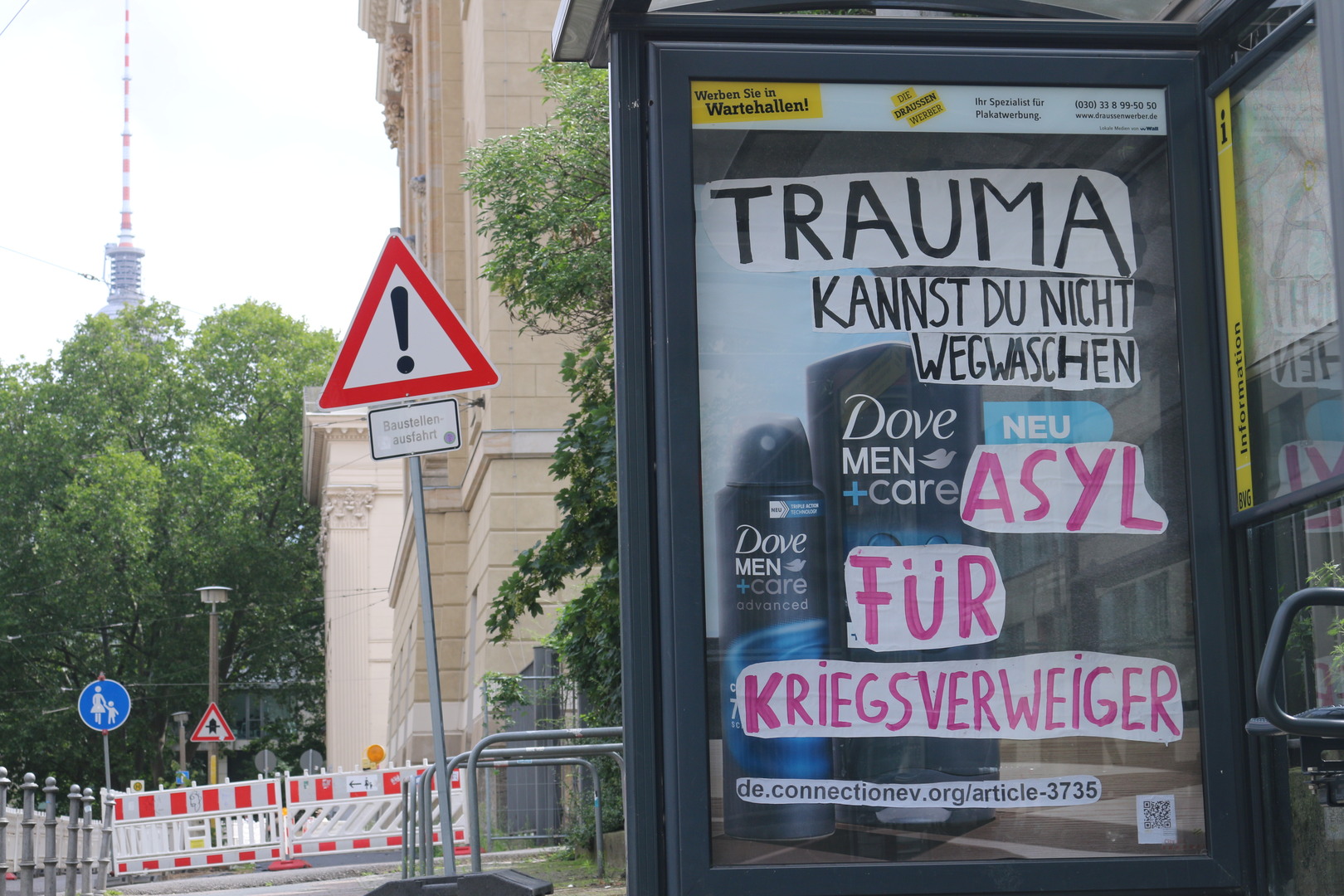 Trauma instead of shower gel
AfCOn! also hijacked an advertisement for shower gel. Instead of boasting about the benefits of this particular shower gel, the poster text now reads: "You can't wash off trauma. Asylum for conscientious objectors!"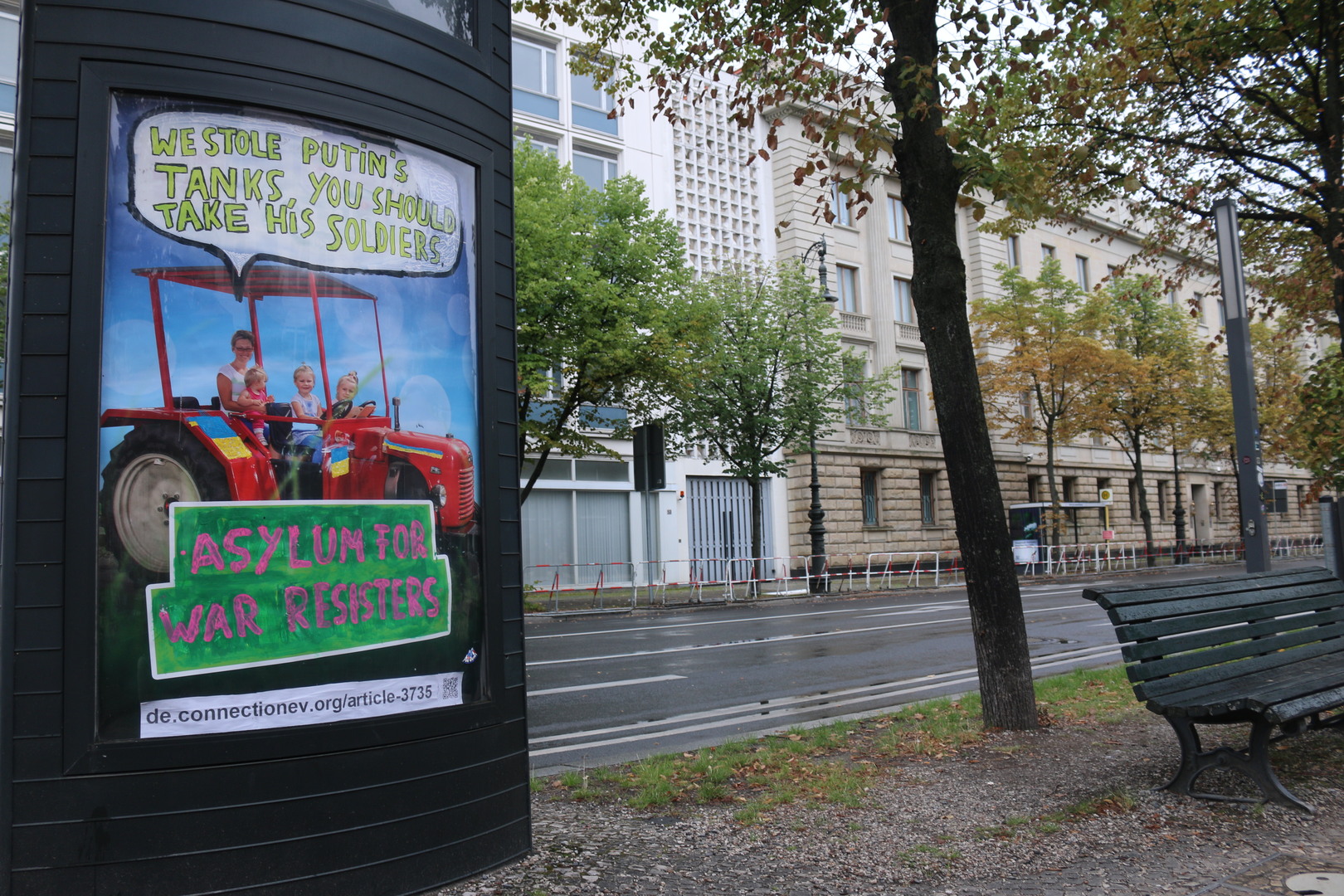 Tractors stealing tanks
In front of the Russian embassy, an advertisement for a strawberry themed amusement park shows a woman with children in a tractor. The communication guerrilla group used paint to adorn the tractor with Ukrainian flags. In addition to the political demand for asylum for conscientious objectors, the people in the tractor say: "We stole Putin's tanks, you should take the soldiers!"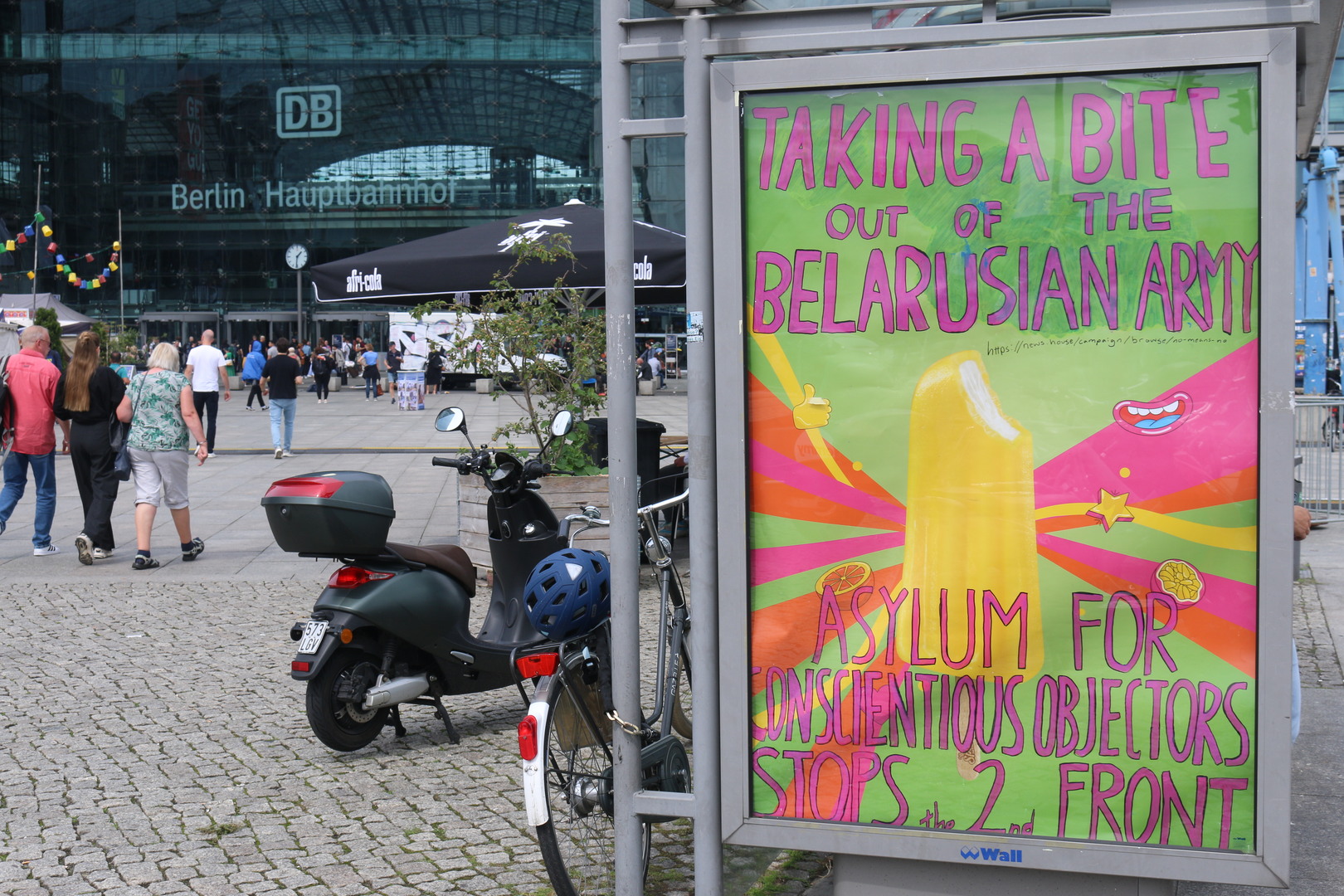 Stop the second front!
A poster showing a bitten ice-cream now advertises asylum for Belarusian conscientious objectors: "Taking a bite out of the Belarusian army. Asylum for conscientious objectors stops the second front!"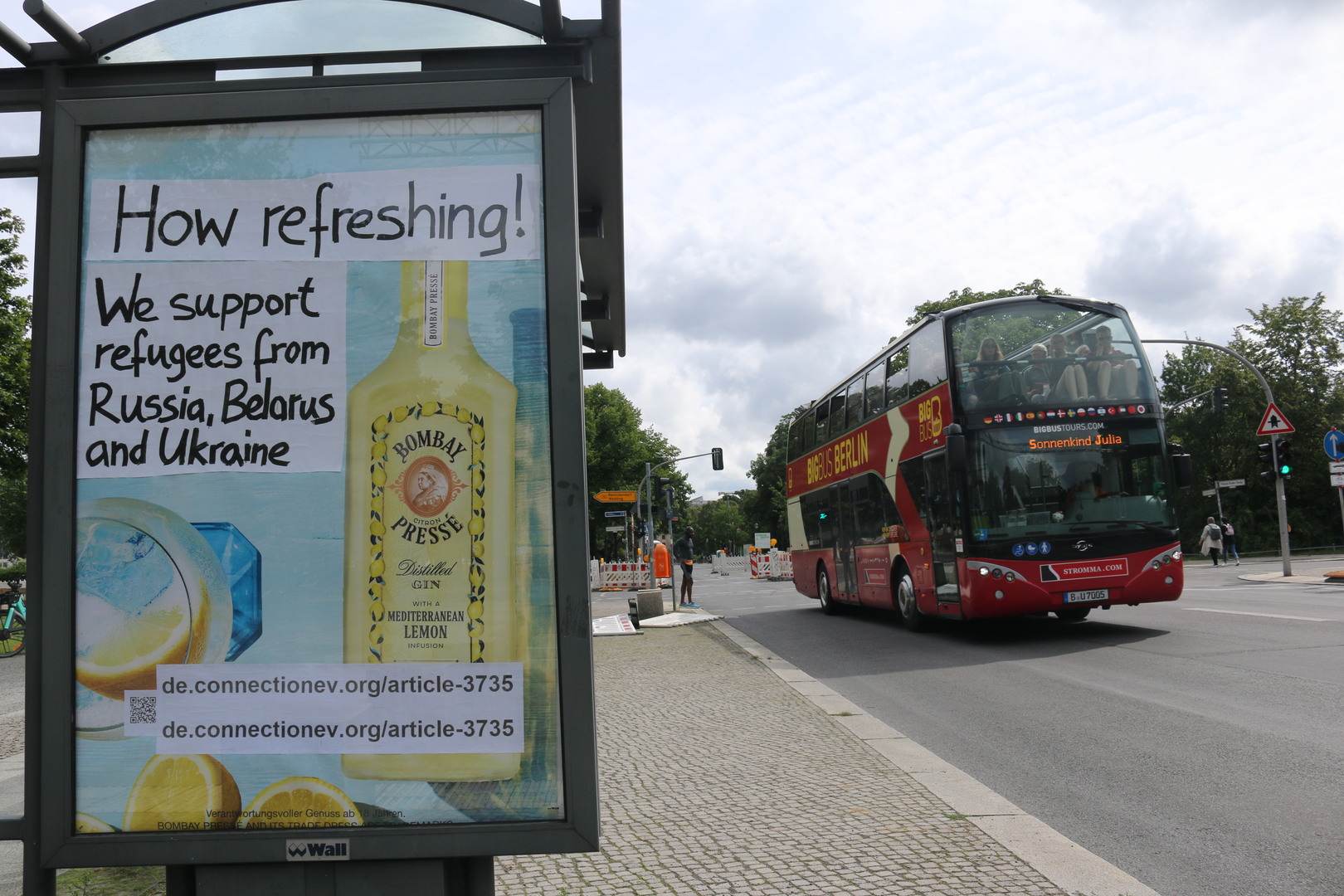 Asylum for conscientious objectors in Germany
There are many more motifs, but this text will be far too long if we list them all here. You can look at the rest yourself. There is also a link and a QR code on all of the posters that leads to the homepage of the conscientious objection organization Connection e. V.
https://en.connection-ev.org/article-3789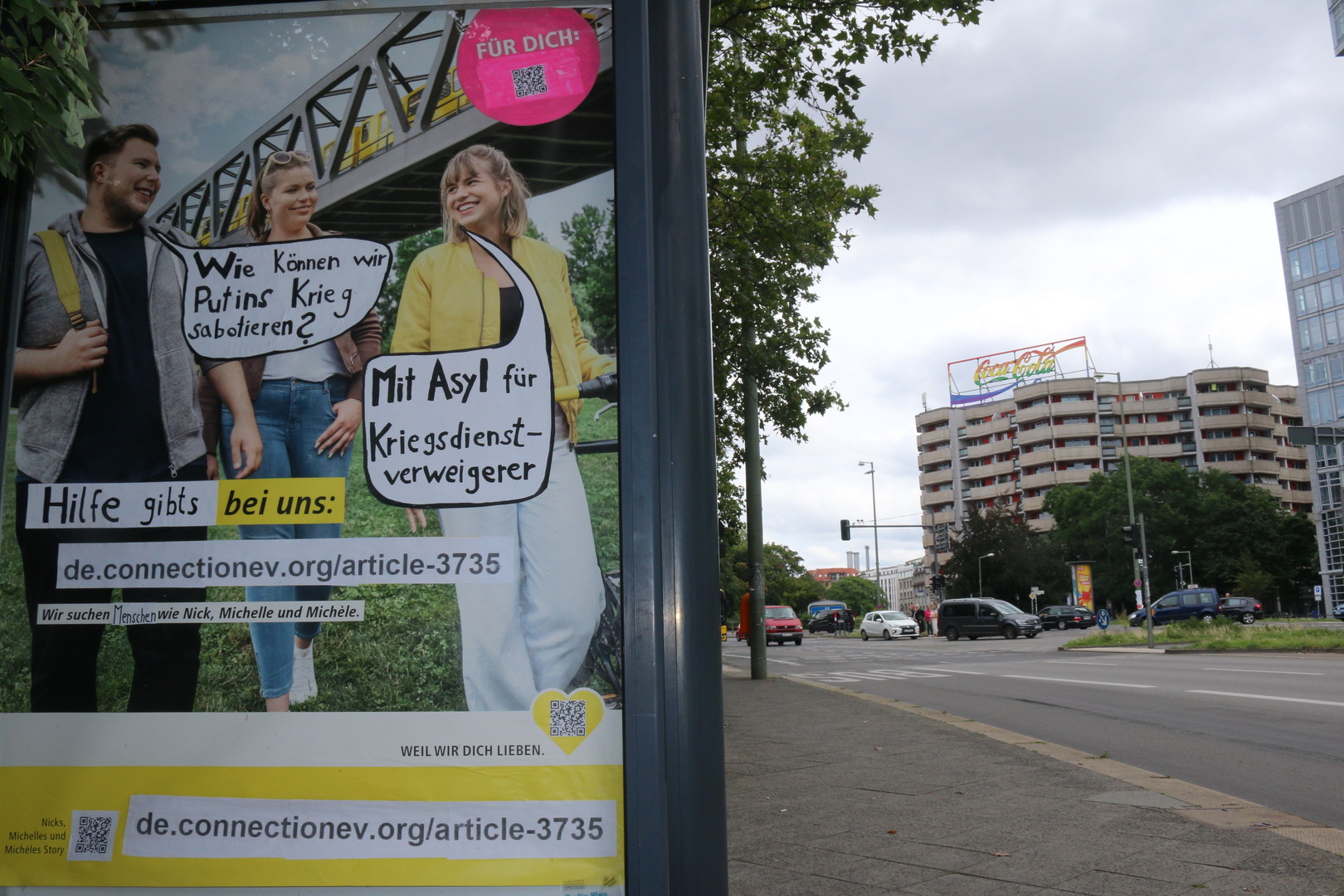 Connection e.V. has been campaigning for the rights of conscientious objectors and deserters from all over the world since 1993. A key demand of the association has always been that conscientious objectors must be granted asylum in Germany. They also support people with their asylum applications. Together with the European Bureau for Conscientious Objection, the International Fellowship of Reconciliation and War Resisters' International, Connection e.V. called on the European Union to grant asylum in the EU to conscientious objectors from Belarus and Russia with the #ObjectWarCampaign. A petition with this request has reached almost 50,000 signatures.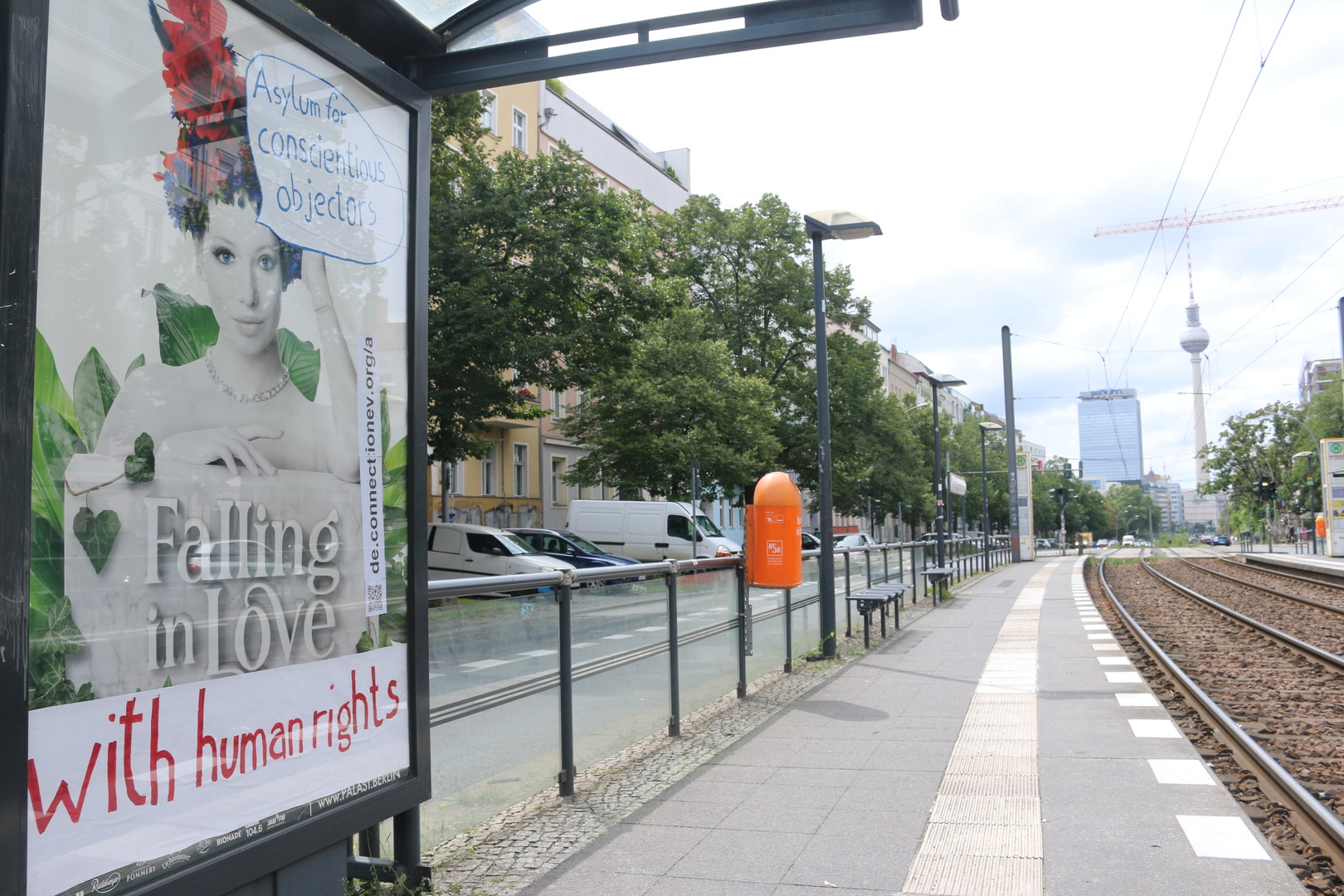 Conscientious objection in Russia
The Movement of Conscientious Objectors to military service in Russia (MCO) is an organization that has been supporting Russians to refuse military service since 2014. Among other things, they give advice on YouTube and Telegram on the possibilities of evading military service and thus provides potential objectors with a valuable wealth of experience.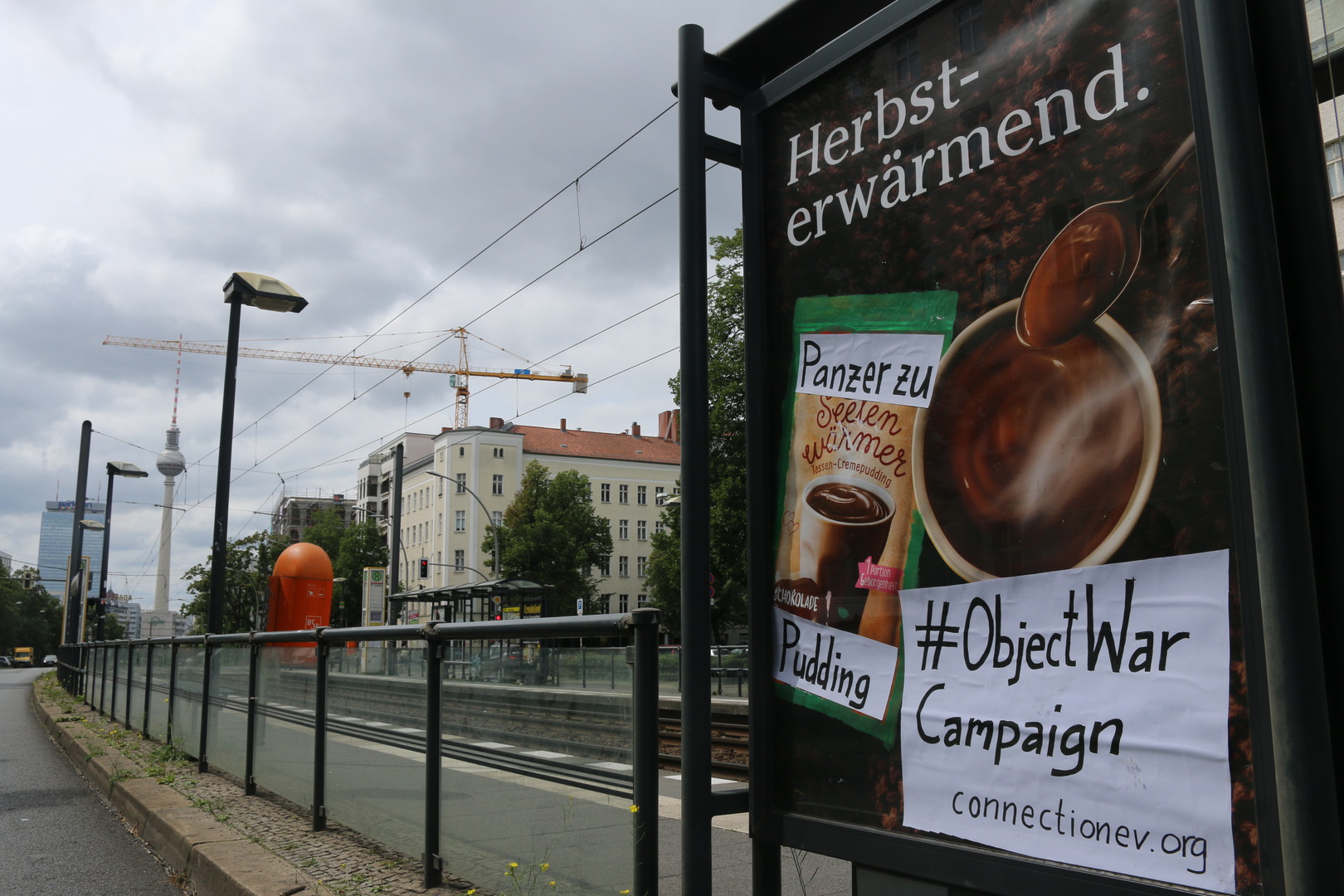 Conscientious objection in Belarus
The Belarusian government has supported Russia's full-scale invasion of Ukraine from the very beginning. Therefore, it is still a fear that the Belarusian military could attack Ukraine on a second front. In reaction to this, the Belarusian human rights organization "Nash Dom" launched the campaign "No means No: Stop the 2nd Front" in 2020.
In the campaign, the organization draws attention to the fact that a constitutional right to conscientious objection exists in Belarus. Most people there were not aware of this at all, because the reality is very different: Anyone who refuses to be a soldier goes to prison and could become a victim of torture and harassment. Nash Dom appeals for humanitarian corridors to Poland and Lithuania and supports opponents of the war by helping them flee to these neighbouring countries of Belarus.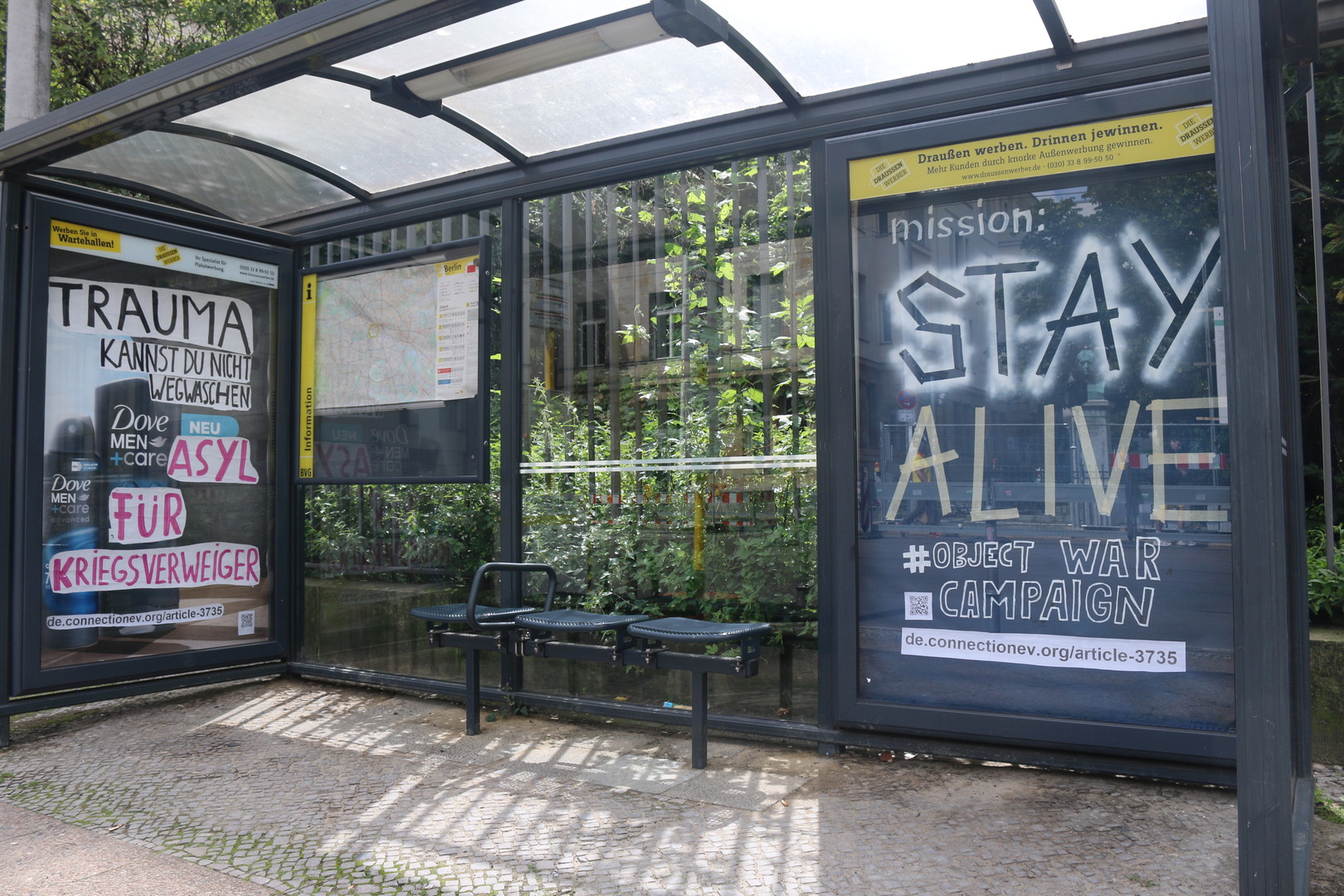 Conscientious objection is a human right
The human right to conscientious objection has also been in bad shape in Ukraine since the Russian aggression in 2014. Even if the situation for Ukraine is very difficult right now, the government should uphold human rights. This is especially true in war, because Western support for Ukraine's fight depends in part on the fact that it is a democracy that has been defended by two uprisings. This democracy is unfortunately not perfect but it is immeasurably better than an obvious dictatorship.
The decision by the people of Ukraine not to live in the Russian dictatorship and to fight against the invasion is a legitimate. "We have the privilege of being able to choose whether we support this fight with or without violence," says Roderich Supersonnscheinwetter. Our suggestions will only be credible if we manage to develop serious alternatives to military options. We have to show how we can apply pressure on the Russian government without violence in order to finally end the war. Unfortunately, the German peace movement is still light years away from that.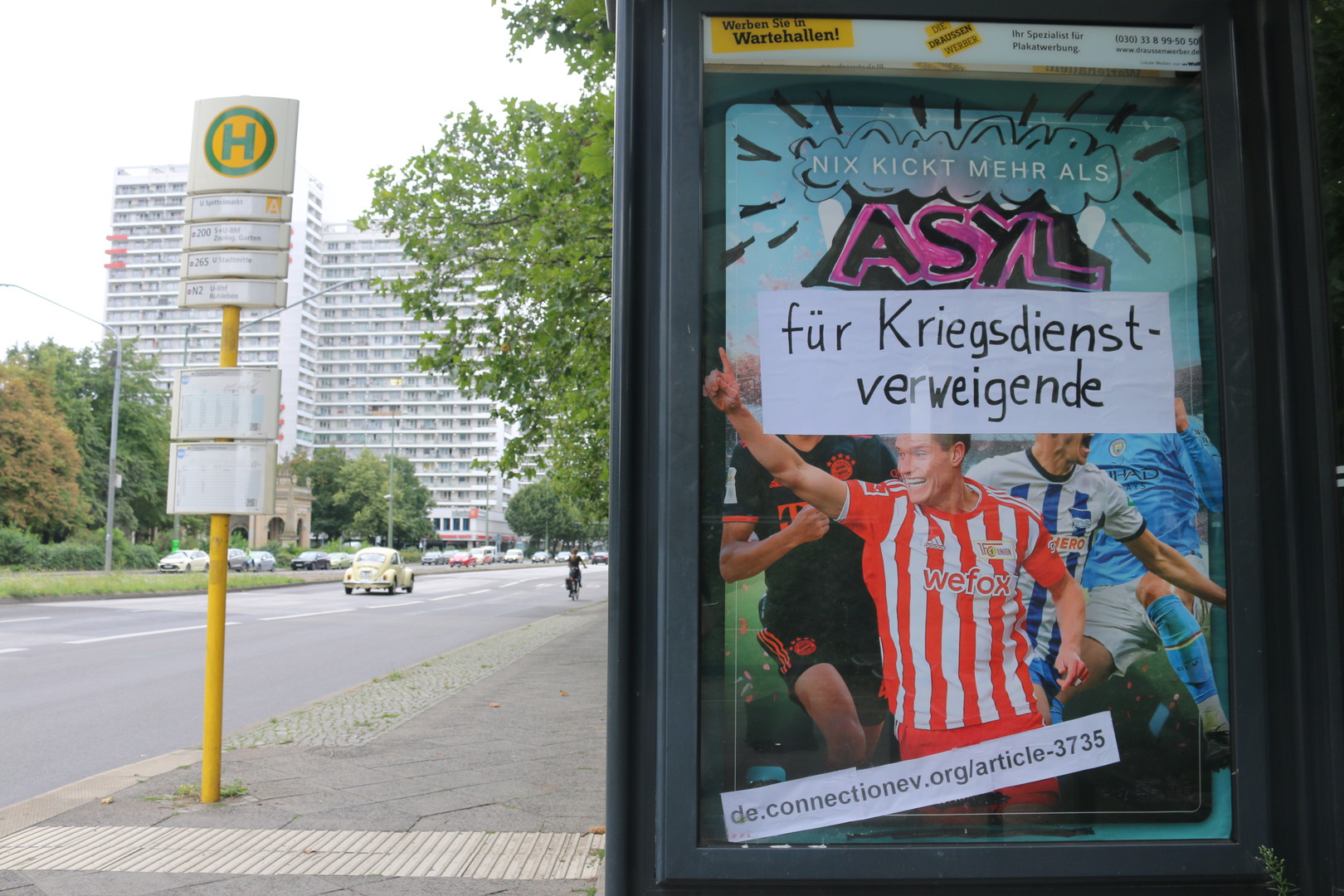 Nonviolent alternatives to war?
In the peace movement, many are loudly calling to stop arms deliveries to Ukraine, which is under attack and fighting against the occupation. But they do not answer how we can instead build up non-violent pressure on the Russian government to end its criminal war of aggression and finally withdraw its armies from Ukraine. "The war has been going for over a year and a half now and there is still not a single campaign from the peace movement that would somehow show credible alternatives to military force," says Roderich Supersonnenwetter: "We haven't occupied the oligarch villas, the Putin propagandists get hardly any opposition from the peace movement, we cheerfully boycott Israel despite our German history but leave the blockade breakers, who are still unscrupulously profiting from the Russian war alone, with very few exceptions!"