The Subvertisers International Network and Brandalism have joined forces to act in resistance against
advertising for airlines and airports
in particular, protesting the paradox of ads that drive up demand for the most polluting form of travel as global impacts of the climate crisis accelerate.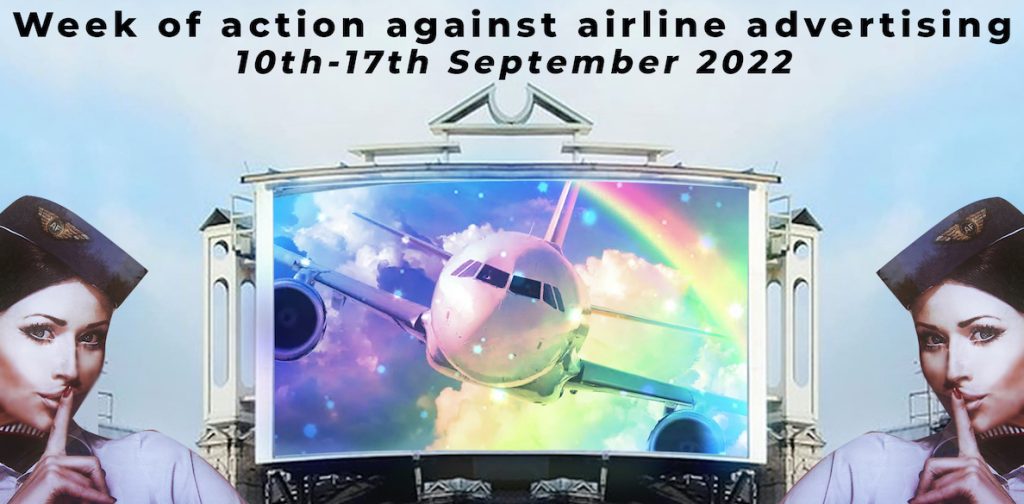 European week of action to #BanFossilAds
During the week of action from 10-17th September, and the following week, actions will be unfolding in the UK, Netherlands, Spain, Portugal, Italy, France, Sweden and more. Actions will call out the advertising agencies that greenwash aviation expansion, including with subvertising, community art events and political engagement.
In the UK, SI member group Adfree Cities will see their local volunteer 'Adblock' groups take action in a variety of ways. Adblock Bristol are hosting a giant community paint-by-numbers event, alongside an Open Letter to the city's mayor asking for a ban on airline ads and other high-carbon adverts. Other Adblock groups including in Norwich, Lambeth and Lewisham will be organising "six-sheet cover ups" to repurpose advertising boards for community conversations, while also making similar local policy demands.
In The Netherlands, groups will also take part in six-sheet cover ups, while covert subvertising actions will take place across Europe.
As recognition of the role advertising has to play in driving up emissions takes hold across the world, the movement to #BanFossilAds is gathering momentum with a recent deluge of tobacco-style bans on these types of adverts.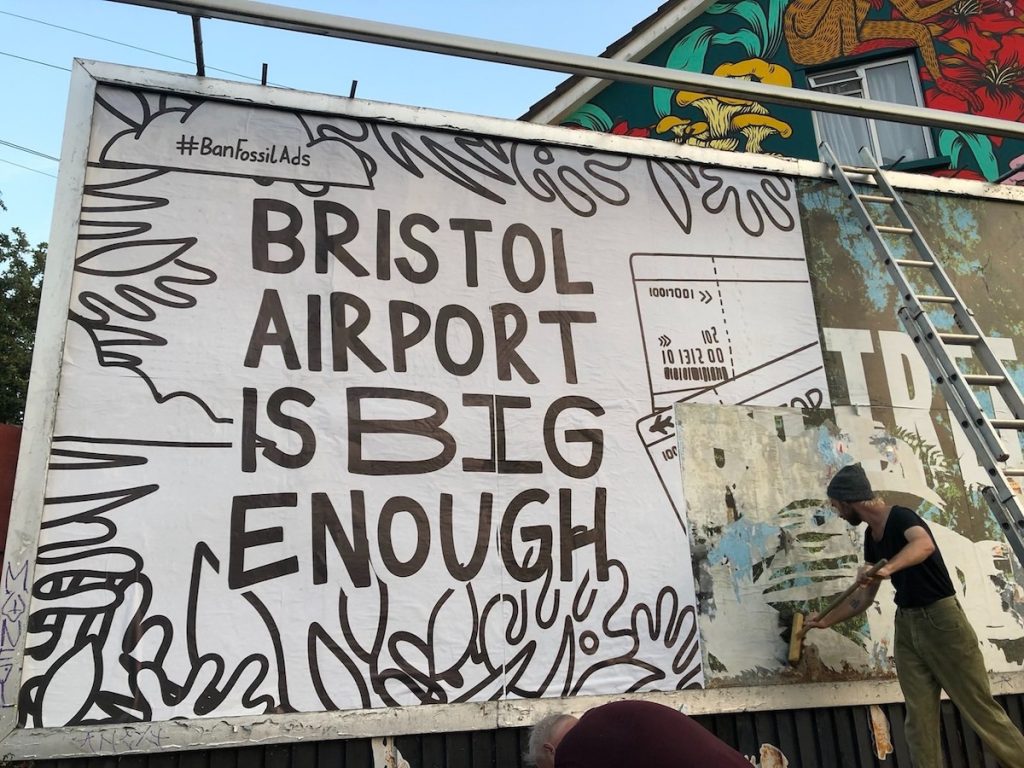 Momentum for fossil ad bans grows worldwide
The city of Sydney has just voted to end adverts for fossil fuels, President Macron has banned fossil fuel advertising across France, and Amsterdam, Norwich and The Hague are also among cities that have also banned adverts for flights, fossil fuel companies and petrol and diesel cars. Just last week, the Dutch city of Haarlem banned high carbon adverts in public spaces, including ads for meat.
More than 300,000 people have signed an EU petition to ban fossil fuel advertising and sponsorship. If you're in the EU, you can sign here: www.banfossilfuelads.org.
Why take action against aviation ads? Aviation advertising is pushing extra flights in a climate emergency, using greenwash and promises of false solutions to drive up ticket sales, airport expansions and aviation industry profits. Aviation is one of the most climate-harming sectors with no meaningful commitments to reduce emissions or to securing a just transition for workers. Flying is also an elite activity; this week, Adfree Cities as part of the Subvertisers International network, will call out the contradiction of advertising a polluting activity that is accessible to a minority of people but is harming so many more.
Take action in the EU and UK
Take action from 10th-17th September to oppose advertising for fossil fuels, particularly airlines and airports: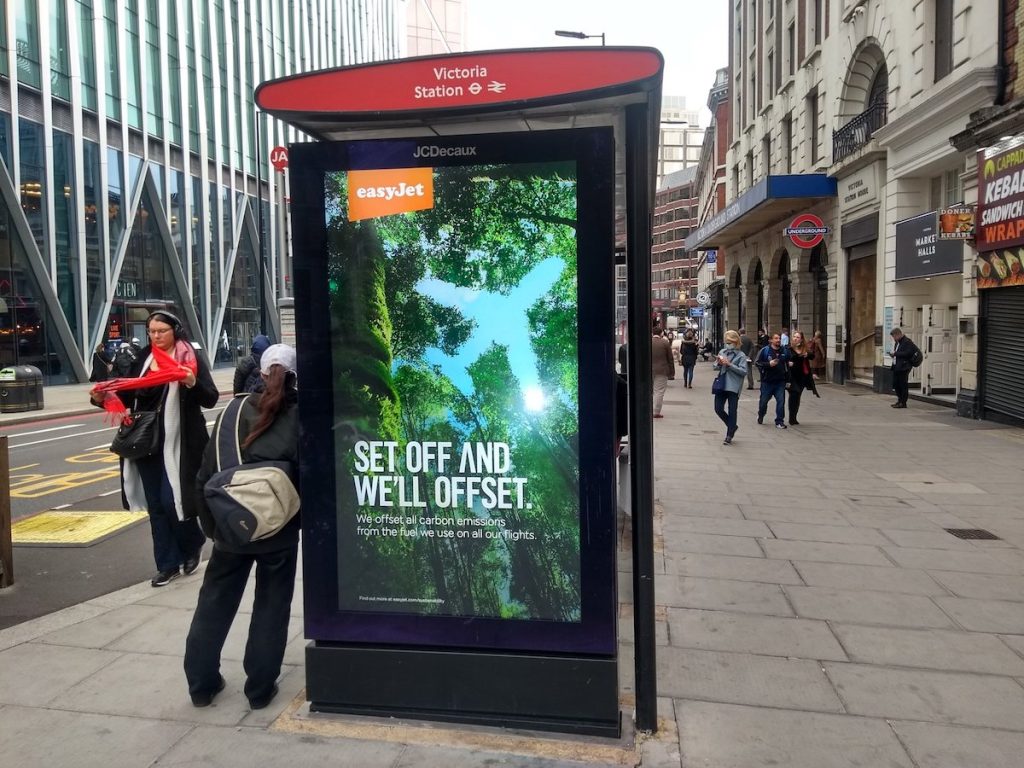 Greenwashing by Easyjet in the UK, October 2021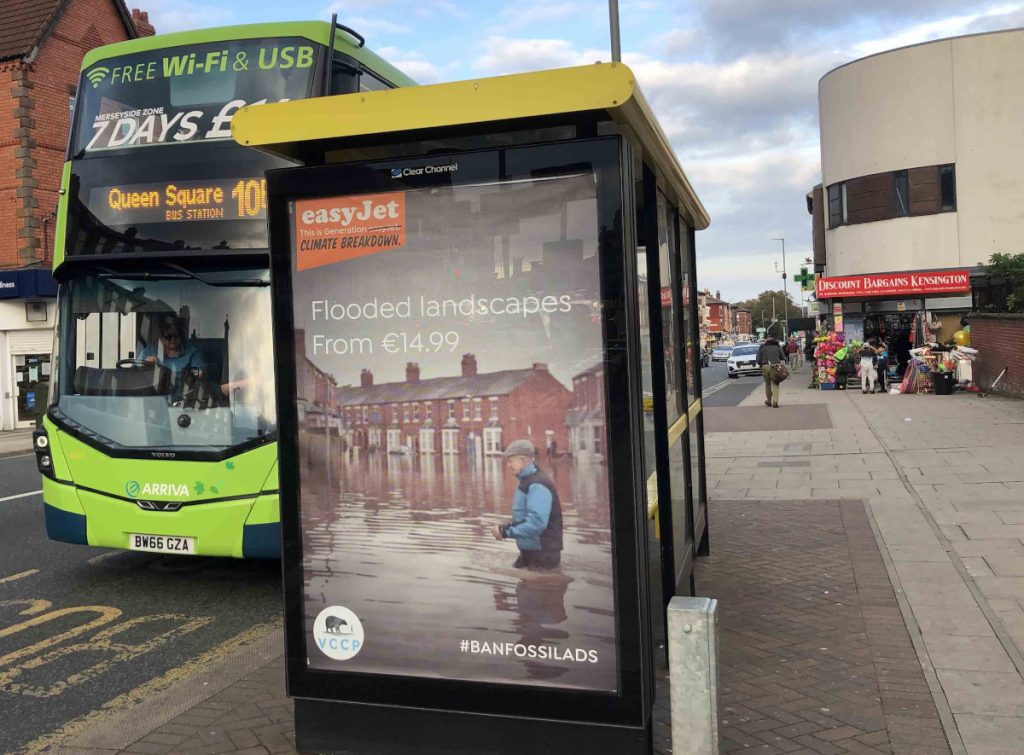 Artwork by Matt Manson via Brandalism