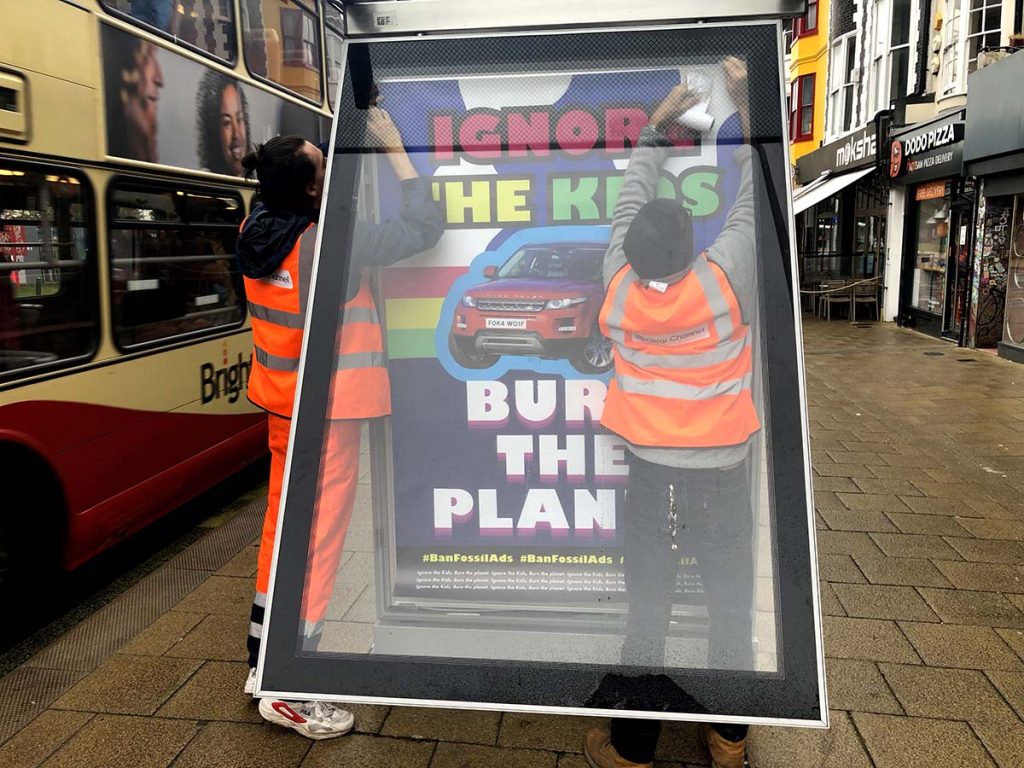 UK, Paris, Belgium; October 2021.
More than 200 bus stop spaces were hijacked with spoof adverts in the UK, Paris and Belgium, as activists target the advertising industry over its role in propping up major polluters. The subvertising campaign, coordinated by the anonymous Brandalism network, was part of the wave of grassroots #BanFossilAds actions across Europe in protest against all fossil fuel advertising and sponsorships.
A new report by DeSmog has shown that two thirds of advertisements by big polluters are greenwash – which is causing dangerous inaction on climate as high carbon industries spend millions on greenwashing their public image rather than cutting emissions.
"Greenwash is the second wave of climate denial in which polluters use false claims about carbon offsetting and 'net zero' to delay meaningful climate action. We want to bring the ad agencies who do this greenwashing back into the picture." – Tona Merriman, Brandalism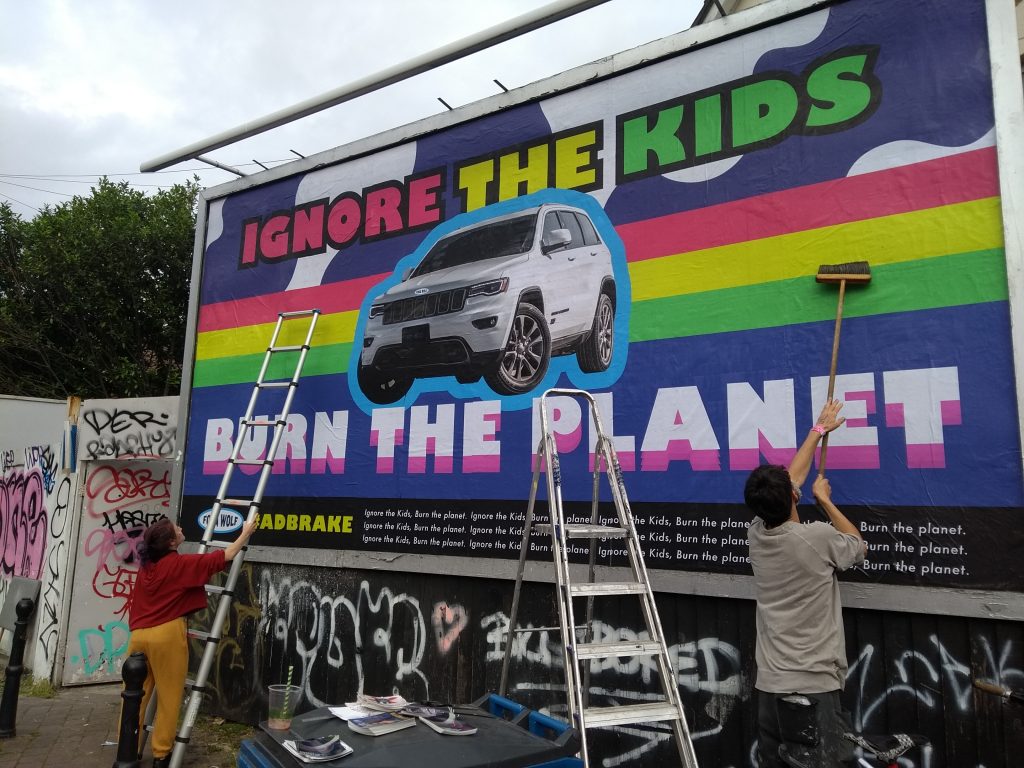 The spoof ads were installed by Brandalism crews in the UK, members of Liège Sans Pub in Belgium and Résistance À L'Agression Publicitaire in France. The ads included images of floods and wildfires alongside the familiar branding of big polluters including Shell, BP, easyJet and Jaguar Land Rover – and their advertising agencies. Aiming to call attention to the advertising industry's role in the climate crisis, the artworks made the link between top agencies including Ogilvy, MediaCom and VCCP and their highly polluting clients.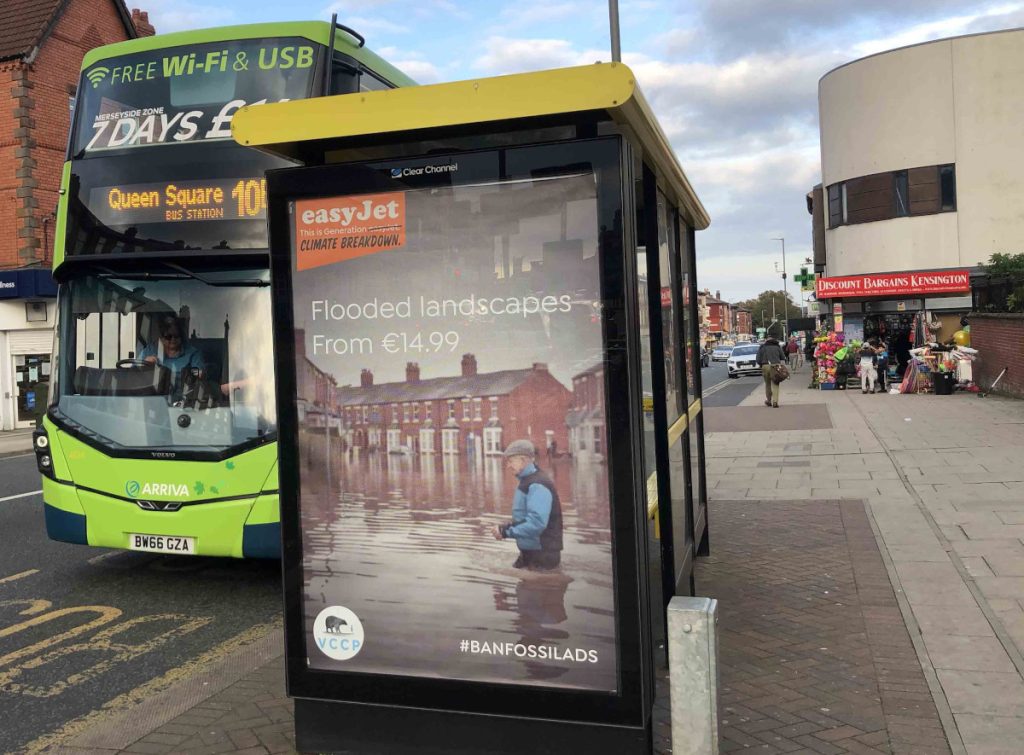 One subvert by artist Matt Manson hacked easyJet's 'This is Generation easyJet' advertising campaign created by ad agency VCCP. With the strapline "This is generation climate breakdown", the spoof ad displays an invitation to purchase "Flooded landscapes for €14.99" across images of a flooded city.
Another design by artist Fokawolf takes aim at SUVs, featuring a Range Rover and a simplified message satirising ad campaigns for these highly polluting cars: Ignore the kids, Burn the planet (Ignorez les infants, Brûlez la planète).
Greenwash advertising by companies including Jaguar Land Rover and BP has been the subject of several recent legal complaints. UK anti-advertising group Badvertising has launched a complaint against Jaguar Land Rover over their misleading 'Above and Beyond' ad campaign, which seemed to place the company 'beyond restrictions' despite its intensively polluting activities. In another case, BP's 'Keep Advancing' campaign by Ogilvy, which had the strapline "We're working to make energy cleaner" was released at a time when BP had 96% of its annual spend on oil and gas.
Many companies also advertise their 'Net Zero' claims, which rely on carbon offsetting. Shell, whose advertising agencies include Wunderman Thompson and MediaCom, has pledged to reach net zero and even tells its customers they are able to 'Drive CO2 Neutral'. However, as pointed out by The Big Con report which details how big polluters are using 'Net Zero' to delay taking any real climate action, Shell's net zero plan relies on 'offsetting' more CO2 by 2030 than was available in the entire global voluntary carbon offset market capacity in 2019.
A satirical advert designed by artist Noel Douglas as part of this #BanFossilAds subvertising action highlights the futility of Shell's offsetting plans – in particular the unreliability of tree afforestation plans in a world where monoculture tree plantations used for offset schemes are at increasing risk of burning down due to climate heating – as has been the case in California and Portugal.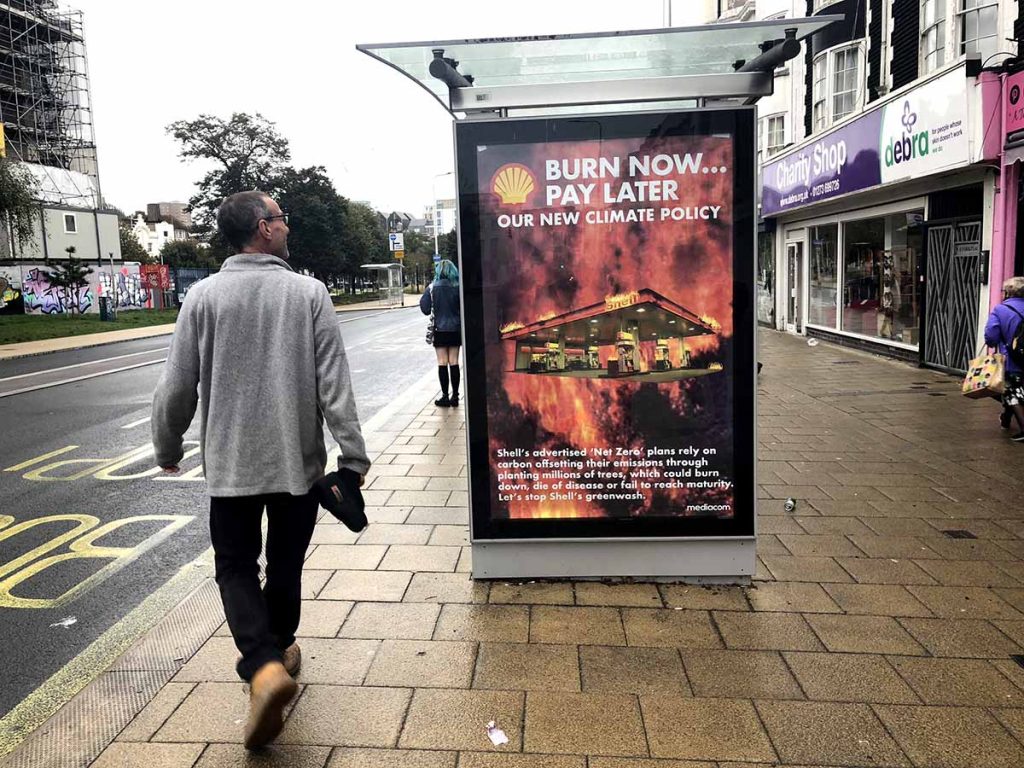 Tona Merriman from Brandalism said:
"Greenwash is the second wave of climate denial in which polluters use false claims about carbon offsetting and 'net zero' to delay meaningful climate action. We want to bring the ad agencies who do this greenwashing back into the picture.

Even when they're not actively deceiving the public, advertisers' constant manufacturing of new desires for never-ending cycles of consumerism is trashing the planet. We need a paradigm shift."
Take action to #BanFossilAds:
If you are in the EU, sign the European Citizen Initiative to ban fossil ads and sponsorship here: https://europa.eu/citizens-initiative/initiatives/details/2021/000004_en
Take action to ban harmful advertising in the UK: https://adfreecities.org.uk/action/