Call Out: Subvert The City 2018
International Weekend of action:
Friday 23rd – Sunday 25th March 2018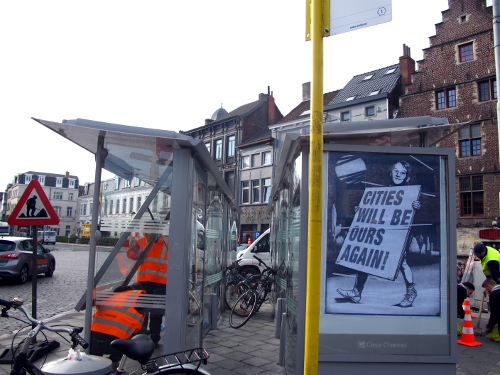 Around the world, citizens and artists are taking action to reclaim public space from corporate outdoor advertising;  to create alternative municipal solutions that meet the needs of people and planet.
In 2017, Subvertisers International-a network of anti-advertising groups – took action in 40 cities in 19 countries including Buenos Aires, Tehran, Melbourne, Lisbon, Paris, Brussels, Berlin, London as together we began to imagine a world beyond consumer-capitalism.
Corporate power influences every aspect of our modern lives: from how we feel about ourselves; our bodies; our understandings of gender, race and class; through to our perceptions of others and the world we live in. Advertising doesn't simply sell us products – it shapes our expectations of how meaning should be produced in life.
In 2018, we invite you to participate a second international weekend of action on Sunday 25th March* as we seek to connect with groups to reclaim our Right to the City and to create a future beyond consumerism.
Whether you choose to alter; replace or remove corporate ads; show a film screening; or organise a workshop – whether your tactics are open or clandestine; this is a day to become visible to others in your community and all around the world.
* The date is the anniversary of when a French court upheld the right of citizens to take action against corporate advertising panels in 2013.